North SeaTac Park - Delta + Seahawks @ …05/20/2022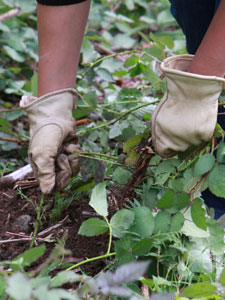 Activities
Help transform a forest. North SeaTac Park is a 200+ urban oasis under the flight paths of SeaTac Airport. The trees here clean, quiet, and cool the air - true guardians of the community!

We'll be working in a corner of the park, under towering poplars and Douglas Fir, that was almost completely overrun with ivy that carpeted the ground and climbed the tree trunks until we began to transform it in early 2021. On Green SeaTac Day this fall, volunteers planted white pine, cedar, snowberries, fringe cup and more on the newly-cleared land here.

At this event, we'll continue to expand the cleared zone into adjoining areas and care for newly planted plants.
Private Event
Adults only
28 out of 50 volunteers registered.
What to Bring
Wear sturdy, closed-toed shoes, long sleeves and pants. Wear clothes you don't mind getting dirty. Hats are recommended. Rain gear may be needed.
Where to Meet
Look for the tent at the NE corner of Des Moines Memorial Dr. S. and S. 136th St. in SeaTac.
Where to Park
There's parking on S. 136th St. right near the meeting place and ample parking within sight across S.136th St. by the ballfield. (Sunset Playfield) click here